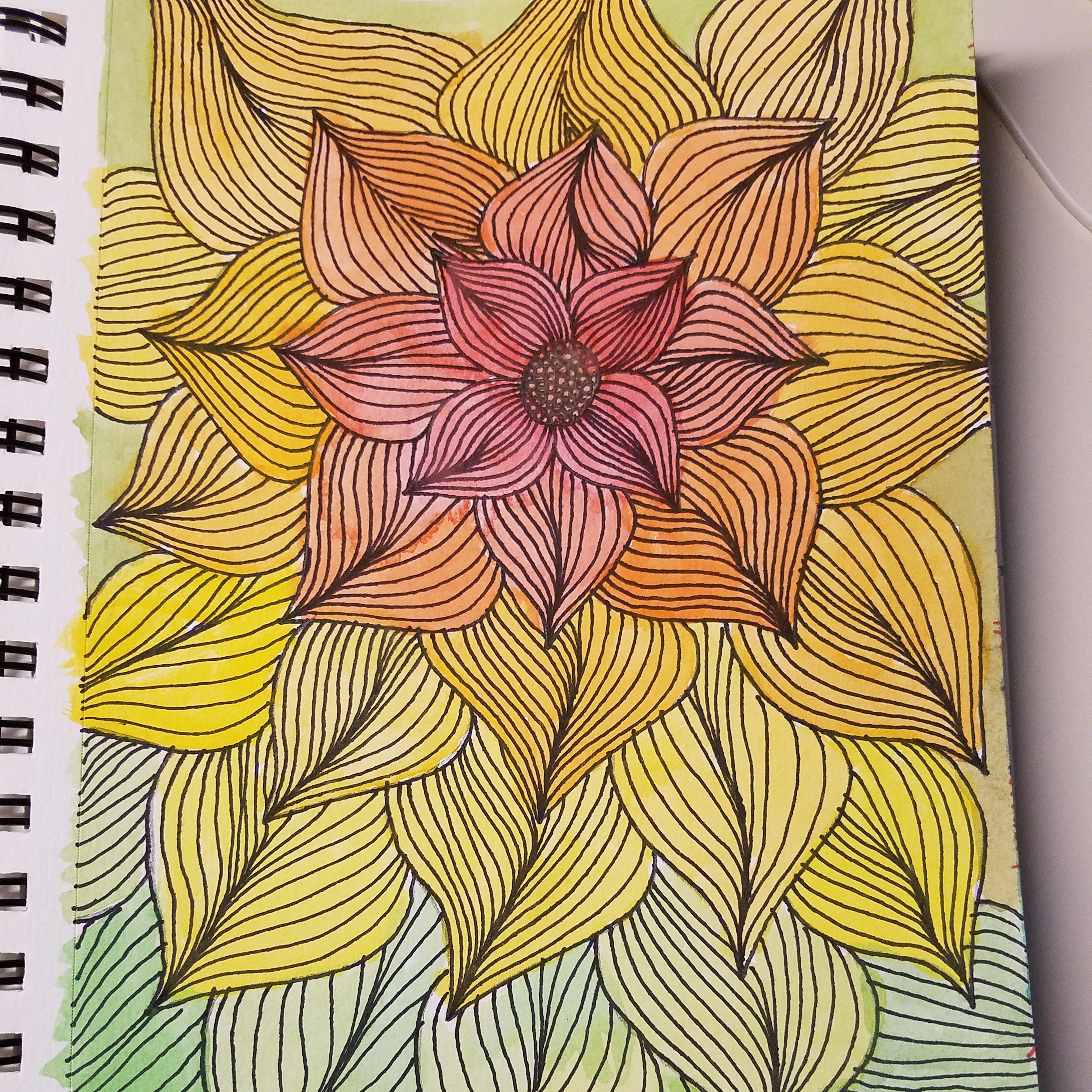 Take the next 30 days to become stress free using visual art.
Creative self care is my main form of becoming stress free and preventing an anxiety attack. When I start to feel the slightest bit anxious or stressed, you know heart racing, can't sit still, breathing changes, mind racing; I grab my journal and a pen or marker and go find a quiet place to draw. I find creating something abstract, with no plan and letting go of the outcome is so mindful, exciting and very calming experience all at once.
Why does creating visual art help relieve stress?
Because it decreases cortisol in the body, a hormone that is produced when we are stressed.
Visually expressing your emotions is the best way to relieve stress.
If you feel you are not artistic or creative at all let me tell you your wrong everyone is creative and can be an artist. You don't have to try at all infact see what happens when you don't try and you just play. Or if you feel you need a little inspiration, sometimes I do. So when I get a new journal the one thing I like to do before I start my journal is to gather ideas and things that inspire me by creating a vision board.
I find a lot of inspiration on Pinterest and Instagram. When I find something that inspires me to he creative I save the picture to my phone and I have a special folder/almbum on my phone just for inspiration. This way if I am out of service I have access to what inspires me. However some times I get so stressed out that I just let my pen flow.
Another way to make a vision board is to actually print out what inspires you or cut up magazines and attach them in your journal or to a board.
Places to find inspiration:
o  Pinterest
o  Instagram
o  Magazines
o  Take your own photos
What will you need?
Something for you to create your art on and something to create your art with. It's your choice really.
What medium do you feel most comfortable using? Medium is the material or technique used to create art
What I recommend:
Get a journal so you can go back and see all your work.  Go to your local art & craft supply store and pick out an art journal.

My favorite is Strathmore Mixed Media Art Journal you can buy it here. +

I prefer a mixed media journal because I like to use a variety of different mediums. And I can carry it with me

Mediums I like to use are watercolor paint, acrylic paint, Sharpie markers, colored pen and pencils.

Go to your local arts & craft supply store and browse the isles to see what catches your eye on what inspires you and makes you feel creative.
Remember!!!
*** This is your private journal and do not have to share it with anyone, unless you want to
*** Be proud of what you create
*** It's always important to choose colors that are calming to you. My favorite colors to use are purple, blue and pink.
*** Silence your inter critic and let go of your idea of perfect.
*** Allow yourself to have fun – play more than try
*** Your piece of art can be very abstract or very detailed and specific… the choice is yours
The more I use my art journal the more of a habit it has become to reach for it when I feel anxious or stressed.
I am so grateful for the opportunity to share with you my passion.
Love + Light
Brittany
If you are interested in taking the next 30 days on A heart lead journey using expressive art then click the link to get 30 Days to an Inspired Heart.